Posts for: March, 2014
By John W. Cox DDS
March 18, 2014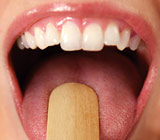 Bad breath, medically known as halitosis ("halitus" – breath; "osis" – disorder) is an unpleasant condition that can negatively impact your personal and business relationships. It's more than just embarrassing! In fact, one recent survey found that three out of five people would rather work with someone who talks too loudly than with someone who has bad breath! Gum, mints and mouth rinses can temporarily remedy the situation, but not cure it permanently. So how much do you know about the underlying causes of bad breath?
The following true/false quiz will help you discover, while learning more about bad breath.
Questions
The most common orally related sites associated with bad breath are the tongue and gums.
Systemic (general body) medical conditions can't cause bad breath.
Bad breath is always worse in the morning.
Effective treatment depends on the underlying cause of the disease.
Dentists can do very little to diagnose the cause of bad breath.
Answers
True. The back of the tongue and diseased gums can become repositories for bacteria. In the case of the tongue they are from left over food deposits and even post-nasal drip. Bad breath that emanates from the tongue has a "rotten egg" odor caused by volatile sulfur compounds (VSCs).
False. Medical conditions can cause bad breath including lung infections, liver disease, diabetes, kidney infections and cancer.
True. Saliva flow decreases during the night making the mouth feel dry, and giving you that typical "morning breath" taste and odor upon wakening.
True. As with any medical condition, uncovering the origin will dictate appropriate treatment. For example, tongue scraping or brushing can help eliminate odor that originate from the tongue. If the cause is disease related, the disease will need to be treated to control associated bad breath.
False. There are several things dentists can do starting with a thorough medical history and oral examination. For example, decayed or abscessed teeth, diseased gums, coated tongue or infected tonsils are all common oral causes. We can also conduct breath tests to determine if the odor is emanating from the mouth or lungs, and test to determine the level of VSCs in the mouth.
Learn More
Worried about bad breath? Are you ready to trade your breath mints for a more permanent solution? Call our office today to schedule an oral examination. For more information about the causes of bad breath, read the Dear Doctor magazine article "Bad Breath: More Than Just Embarrassing."
By John W. Cox DDS
March 03, 2014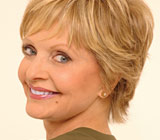 Life lessons are learned in the most surprising places. This is no different for celebrities. Take, for example, Florence Henderson, an actress, singer, philanthropist, author and star of the hit television series, The Brady Bunch. As she told Dear Doctor magazine, her experience with having four impacted wisdom teeth removed — at the same time — "...only made me more aware of how important dental care is." She continued, "This is why I have always gone every six months for a check up."
Another important lesson we want to share is the fact that even if your impacted third molars (wisdom teeth) are not bothering you or causing any pain, you may still need to have them removed.
Why? Having a tooth submerged below the gum, pressing on the roots of other teeth is problematic; the tooth should be removed so that you can avoid major dental problems before they occur. For example, it is not uncommon for us to find an impacted third molar pressing against the roots of the adjacent second molar. Furthermore, because the enamel crown of this impacted tooth is trapped below the gum, we sometimes find an infection, gum disease or even cyst formation occurring.
Often, the best time to remove a wisdom tooth is when it is not causing any problems. This is because a painful wisdom tooth or pain in the area of the wisdom tooth may be a sign that significant damage has occurred or is occurring. It is also better to remove wisdom teeth when you are young, as young healthy people with no prior infections at the site provide the best opportunity for us to remove the tooth with no complications.
To learn more about impacted wisdom teeth, continue reading the Dear Doctor magazine article "Removing Wisdom Teeth." Or if you suspect or already know that you have an impacted wisdom tooth, contact us today to schedule an appointment so that we can conduct a thorough examination that includes x-rays. During this private consultation, we will also address any questions you have as well as your treatment options. And if you want to read the entire article on Florence Henderson, continue reading "Florence Henderson."