Posts for tag: periodontal disease
By John W. Cox DDS
February 21, 2014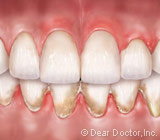 Periodontal or gum disease is a serious condition that could lead to tooth and bone loss. Unfortunately, you may not even realize you have it — the disease in its early stages can be difficult to detect. If you know what to look for, however, a few signs can tell you something isn't quite right.
Bleeding gums after brushing, for example, are a likely indication that your gum tissues are inflammed due to an infection caused by bacterial plaque. Coupled with chronic inflammation from the body's response to the infection, the unhealthy tissues bleed easily.
As the disease progresses, you may also notice changes in your gums' appearance: redness at the gum line, as well as some slight swelling. Receding gums expose more of the tooth below the enamel crown. As roots become exposed to the oral environment, you'll begin to notice painful sensitivity to hot or cold. In time, the disease may cause bone loss producing other signs like loose teeth or teeth shifting from their original position.
In some cases, gum disease can cause a painfully acute abscess. This occurs when the bacterial infection becomes isolated in a pocket of space between the teeth and gums. As the body attempts to fight the infection, its defenses are overwhelmed and the abscess becomes painful, swollen and filled with pus.
If you encounter any of these signs, it's important to take action quickly to minimize the damage and stop the disease's progress. Our first priority is to remove as much bacterial plaque and calculus as possible and may consider antibacterial and antibiotic treatments. This may take more than one session, but it's necessary in stopping the disease.
Long-term success, though, will depend on improved oral hygiene (brushing and flossing), regular office cleanings to remove difficult to reach plaque and calculus, and checkups to monitor the condition of your gums. You can also lower the risk of reoccurrence with improvements in diet and life-style (such as quitting smoking). Instituting better hygiene and lifestyle habits, as well as keeping alert to any signs of recurring disease will go a long way in preserving your teeth and overall oral health.
If you would like more information about periodontal disease and its effect on your health, please contact us or schedule an appointment for a consultation. You can also learn more about this topic by reading the Dear Doctor magazine article "Warning Signs of Periodontal (Gum) Disease."
By John W. Cox DDS
October 28, 2013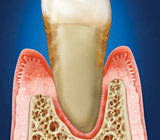 Loose teeth are an exciting rite of passage in childhood; in adulthood, they're anything but. In fact, a permanent tooth that feels loose is a sign that you need to make an appointment with our office right away. The quicker we act, the better chance we will have of saving the tooth.
What causes loose teeth? In the absence of a traumatic dental injury, the culprit is usually periodontal (gum) disease. This is a bacterial infection of the gum and/or bone tissues that surround and support your teeth. The infection is caused by bacterial plaque that sits on your teeth in the absence of effective oral hygiene. Over time, periodontal disease will cause gum tissue and eventually bone to detach from the teeth. As more of this supporting tissue is lost, the teeth will gradually become loose and (if the disease remains untreated) eventually fall out.
Loose teeth can also be caused by a clenching or grinding habit that generates too much biting force. This force can stretch the periodontal ligaments that join the teeth to the supporting bone, making your teeth looser.
Whether the cause of your tooth looseness is biological (gum disease) or mechanical (too much force), treatments are available here at the dental office. The first step in treating gum disease is a thorough cleaning to remove plaque and harder deposits on the teeth (tartar or calculus); this includes the tooth-root surfaces beneath the gum line. You will also be instructed on effective oral hygiene techniques and products to use at home. This type of therapy will promote healing of the gums that will cause some tightening of the teeth. Additional treatments will probably be necessary to gain the maximum healing response to allow the teeth to be most stable. For example, we may also want to temporarily or permanently splint the loose tooth or teeth to other teeth so that biting forces do not loosen them further.
There are other mechanical approaches we can employ to prevent a loose tooth from receiving too much force. For example, we can reshape the tooth by removing tiny amounts of its surface enamel in order to change the way upper and lower teeth contact each other. We also may suggest a custom-made nightguard to protect your teeth if you have a nighttime grinding habit.
The most important thing to know about loose teeth is that it's crucial to intervene quickly. So if you are experiencing tooth looseness, please contact us or schedule an appointment for a consultation. You can learn more by reading the Dear Doctor magazine articles "Loose Teeth" and "Treatment for Loose Teeth."
By John W. Cox DDS
May 31, 2013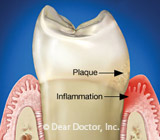 Do you frequently experience bleeding gums during your daily brushing routine? You might assume that you are brushing too hard and that this bleeding is normal. However, you should know that any bleeding of gum tissue is abnormal and should be considered a potential sign of gum disease.
Gum tissues usually bleed because of dental plaque buildup from poor oral hygiene practices. When the plaque is left around the gum line for a long period of time, 24 hours or more, the gum tissues respond by becoming inflamed — this can quickly become a chronic inflammation.
Here are some other warning signs of gum disease:
Bad Breath. Bad breath is one of the most common signs of gum disease. This is especially true for those who do not floss, because plaque collects in the protected areas between the teeth making them especially prone to gum inflammation. This plaque often produces a pungent smell that causes bad breath.
Red or Sensitive Gums. If you look closely in the mirror, you might see redness of the gums. It may also seem as if your gums are swollen, and in more advanced cases, this can lead to receding gums. Finally, you might notice gum sensitivity when you brush or a sensitivity to hot and cold.
Tooth Loss. If this disease goes untreated, over time, bone loss will cause loose teeth, movement or migration of the teeth into a new and unstable position, and ultimately tooth loss. The rate of progression will depend upon the type of gum disease that you have.
Painful Gums. Once you start to feel acute pain and extremely sore gums, this may mean you have developed a periodontal abscess. When this happens, the bacteria are walled off inside a gum "pocket," and since your body's defenses are overwhelmed, there is a battle between the bacteria in that pocket and your body's defense mechanisms. The result is a collection of pus and extra bone loss. Your gums will be sore, swollen, red and may even discharge pus.
As you can see, the further the disease progresses, the greater the amount of pain and damage that will occur. Therefore, upon the first sign of gum disease, such as bleeding gums, you should schedule an appointment with us immediately.
If you would like more information about gum disease, please contact us. You can also learn more by reading the Dear Doctor magazine article "Warning Signs of Gum Disease."